Aerospace Distribution Center Opts For Intelligent LEDs
Digital Lumens' system reduces lighting-related energy by 90% annually. Beyond fixture operation, variety, and light output, Mosca was impressed by the control capabilities and easy access to energy use and operational data through Digital Lumens' LightRules, lighting and energy-management software.
"When we presented the system, the controls and ability to program lights was more of a driver than anything else," said Jim LaCanna. "After seeing the reporting and control capabilities, the team did not want to look anywhere else. Simple fixtures were not comparable."
"This was a unique project because of the range of activity. Our goal was to provide the facility with a solution that could save the most energy, while also meeting light-level requirements of 30 to 45 foot-candles," explained Jim LaCanna of BPL, a Digital Lumens authorized partner.
"Certain areas inside the plant needed more lights to stay on, so scheduling capabilities and the ability to dim the lights based on activity was a critical element of a successful solution for the team."
Project estimates showed that by converting to the Digital Lumens system, with the ability to leverage controls to manage settings and eliminate maintenance costs, the Dassault facility could reduce their lighting-related costs by 90% annually. Additionally, the variety of fixture options—equipped with adjustable light bars—provided the right amount of light for operations.
COPYRIGHT_CAM: Published on https://www.commercialarchitecturemagazine.com/aerospace-distribution-center-opts-for-intelligent-leds/ by George Evans on 2022-10-13T22:43:11.718Z
"A lot of my job involves trying to save money and improve facility operations, so the biggest goal for this project was to save on electricity. As soon as BPL showed us what we could be saving with intelligent LEDs compared to what we were spending for the metal halides, it was an obvious choice for us," said Mosca.
Familiar with the savings impact of LEDs, facility manager James Mosca began testing a variety of LED alternatives, including plain LEDs, LEDs with add-on motion sensors, and intelligent LEDs, to understand the capabilities and energy-savings potential of each. After careful review, Dassault identified the Digital Lumens,' Boston, Intelligent LED lighting system as the solution of choice.
Dassault worked with energy consultant, BPL Carbon Free Solutions LLC, North Brunswick, NJ, to review a variety of lighting alternatives. The facility's lighting - T8 fluorescents and 1,000-, 400-, and 175-W metal halides - lacked many key features essential to energy-efficient operation, including the ability to easily dim, turn off, or schedule lighting. In addition to excessive energy use, maintenance costs added another 10% to operating costs.
minimize maintenance costs.

illuminate all facility areas - low bay and high bay

improve light quality

maximize energy savings
The Teterboro Distribution Center has high-bay and low-bay areas covering approximately 65,000 sq. ft. of the campus. The lighting retrofit project focused on finding a replacement solution that would:
Recent improvements to the Dassault Falcon Jet Corp. Teterboro Distribution Center, Little Ferry, NJ, include new vertical-lift machines, monitors to alert employees to the required date and urgency of orders, and receiving and distribution conveyors, all designed for more efficient movement of parts throughout the facility.
Concurrent with these improvements, the management team searched for a more efficient replacement for the legacy lighting, a combination of metal halides and T8 fluorescents, that was driving up energy and maintenance costs.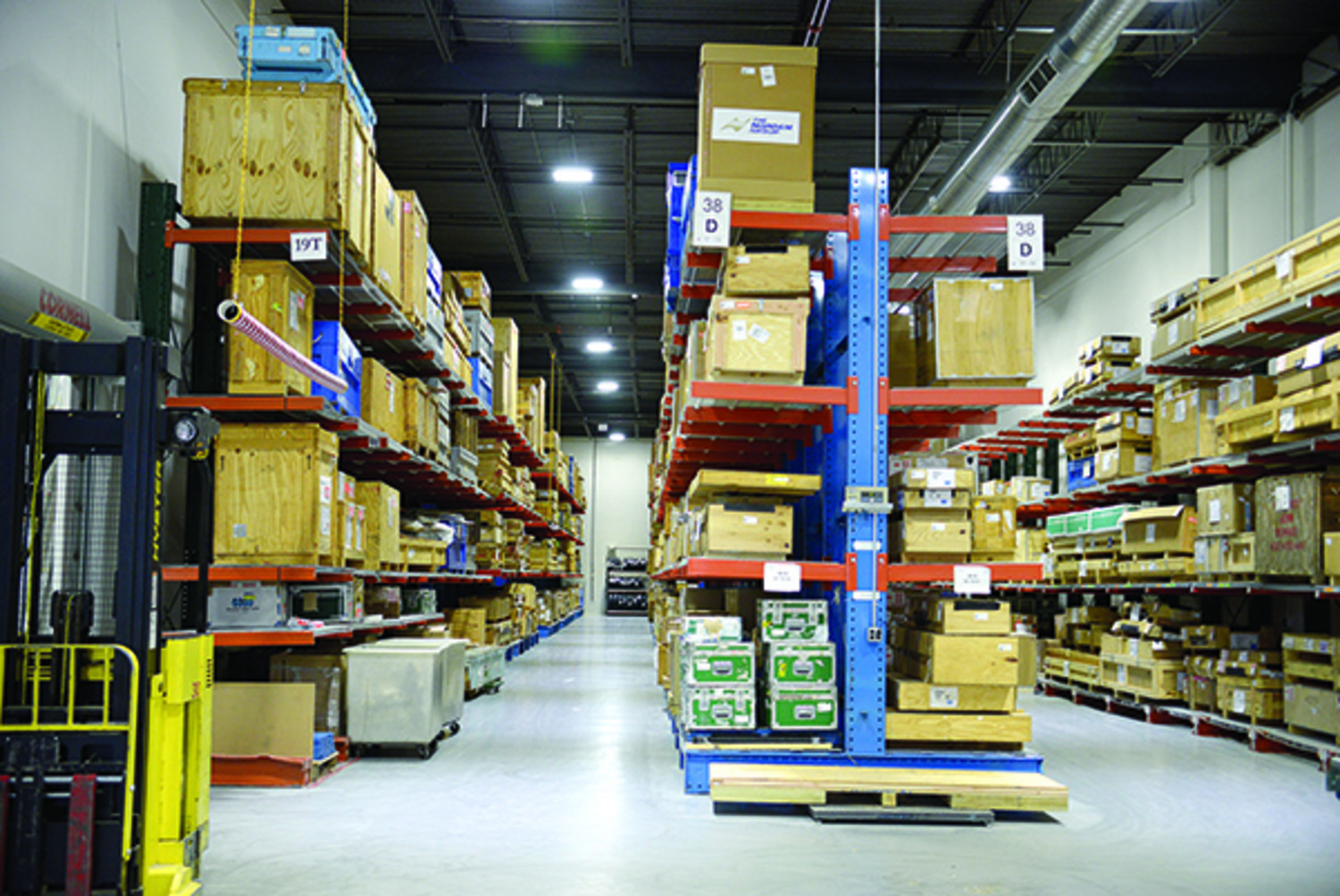 The first phase of the lighting project focused on replacing the existing fixtures in the high-bay warehouse space with intelligent LED fixtures.
The first phase of the lighting project focused on replacing the existing fixtures in the high-bay warehouse space with high-bay intelligent LED fixtures. These low-occupancy areas, with racked aisles for pick-and-pack functions, have facility personnel entering and exiting at only 30 to 40 sec. at a time. Therefore, when people are not in the aisles, the lights can dim during the day or turn off at night.
After securing the economic and environmental benefits of the new system in high-bay spaces, Dassault needed a suitable lighting replacement for the low-bay areas of the facility, previously illuminated with T8 fluorescents and 175-W metal halides.
Covering roughly 30% of the distribution center, the low-bay areas serve quality-assurance functions. In this area, employees require high light levels to read barcodes and take pictures of aircraft parts and components. When it was time to select a lighting solution, they chose Digital Lumens' LLEs (linear intelligent LED fixtures).
The combination of these two intelligent fixtures provided the distribution center with a solution for facility-wide intelligence, giving the facility manager the ability to control all fixtures in all spaces - individually or grouped - through the LightRules platform, and track operational patterns and energy usage across the entire facility.
"Having the ability to change the schedules and the light levels anywhere in the facility is very helpful," explained Mosca. "Also, being able to see the amount of electricity used and pull data to show exactly what these new lights are doing for us is incredible."
The project's outcomes more than exceeded the Dassault team's expectations in lighting performance and energy savings. Recognizing the value in controls and being able to adjust lighting settings to meet facility needs, the upgrade project delivered the following results:
90% reduction in lighting energy usage annually

$53,691 savings in annual energy costs

eliminating maintenance costs, providing an additional $9,251 in annual savings

saving 547,868 kWh/yr.
The movement to intelligent LED lighting gave Dassault the opportunity to lock in energy and maintenance savings, while also improving lighting output. The result is a better environment for all facility users and new levels of efficiency and control that enable management to optimize lighting to support their goals of excellence across operations.
Share:
Twitter

|
Facebook

|
Linkedin