Architecture Schools In Europe - Pursuing A Career In Design
Studying at architecture schools in Europe is an excellent way to gain a top-notch education in the field. Europe is home to some of the world's most prestigious architecture schools, offering top-notch education and training to aspiring architects.
From the historic universities of Italy and France to the innovative programs of Germany and the Netherlands, Europe has something for every student of architecture.
In this article, we will explore the best architecture schools in Europe and what sets them apart from their counterparts around the world.
There are various types of architecture schools in Europe, each with its own unique focus and approach to teaching architecture. Here are some of the most common types:
COPYRIGHT_CAM: Published on https://www.commercialarchitecturemagazine.com/architecture-schools-in-europe/ by George Evans on 2023-04-26T07:59:56.809Z
These are architecture schools that are part of a larger university system and offer undergraduate and graduate programs in architecture as well as related fields like urban design, landscape architecture, and sustainable design.
These are schools that specialize in architecture and are not affiliated with a larger university system. They often offer more focused programs and may have a particular emphasis on a particular aspect of architecture or design.
These are schools that offer more vocational programs in architecture, emphasizing practical skills and hands-on training. They may offer shorter programs or focus on specific areas of architecture, like construction or building technology.
These are schools that cater to a more international student body and offer programs that emphasize global perspectives on architecture and design. They may offer programs in multiple languages and have faculty from a range of countries.
These are schools that offer architecture programs entirely online, allowing students to study from anywhere in the world. They may offer traditional degree programs as well as shorter courses or certification programs.
Each type of architecture school offers a unique approach to teaching architecture and may be better suited for certain students depending on their interests and career goals.
The Bartlett School of Architecture is one of the most respected and prestigious architecture schools in the world.
It offers a range of undergraduate, postgraduate, and doctoral programs, including a BSc in Architecture and an MArch in Architecture. The school is known for its innovative and experimental approach to architecture and urbanism.
Politecnico di Milano is one of the most prestigious technical universities in Italy and Europe. Its architecture programs are well-regarded, and the school is known for its research-oriented and multidisciplinary approach to teaching.
The university offers undergraduate and graduate degrees in architecture, urban planning, and design.
Delft University of Technology is one of the oldest and most renowned technical universities in the Netherlands.
Its Faculty of Architecture and the Built Environment offers a wide range of undergraduate and graduate programs, including a BSc in Architecture and an MSc in Architecture, Urbanism, and Building Sciences. The school is known for its emphasis on sustainable and energy-efficient design.
ETH Zurich is one of the top universities in Switzerland and Europe, known for its research-oriented and interdisciplinary approach to education.
The Department of Architecture offers a range of programs, including a Bachelor of Science in Architecture and a Master of Science in Architecture. The school is known for its focus on digital design and construction.
The Oslo School of Architecture and Design is a highly respected institution known for its research-oriented approach to architecture and design education.
The school offers a range of undergraduate and graduate programs, including a Bachelor of Architecture and a Master of Architecture. The school is known for its emphasis on sustainability and design innovation.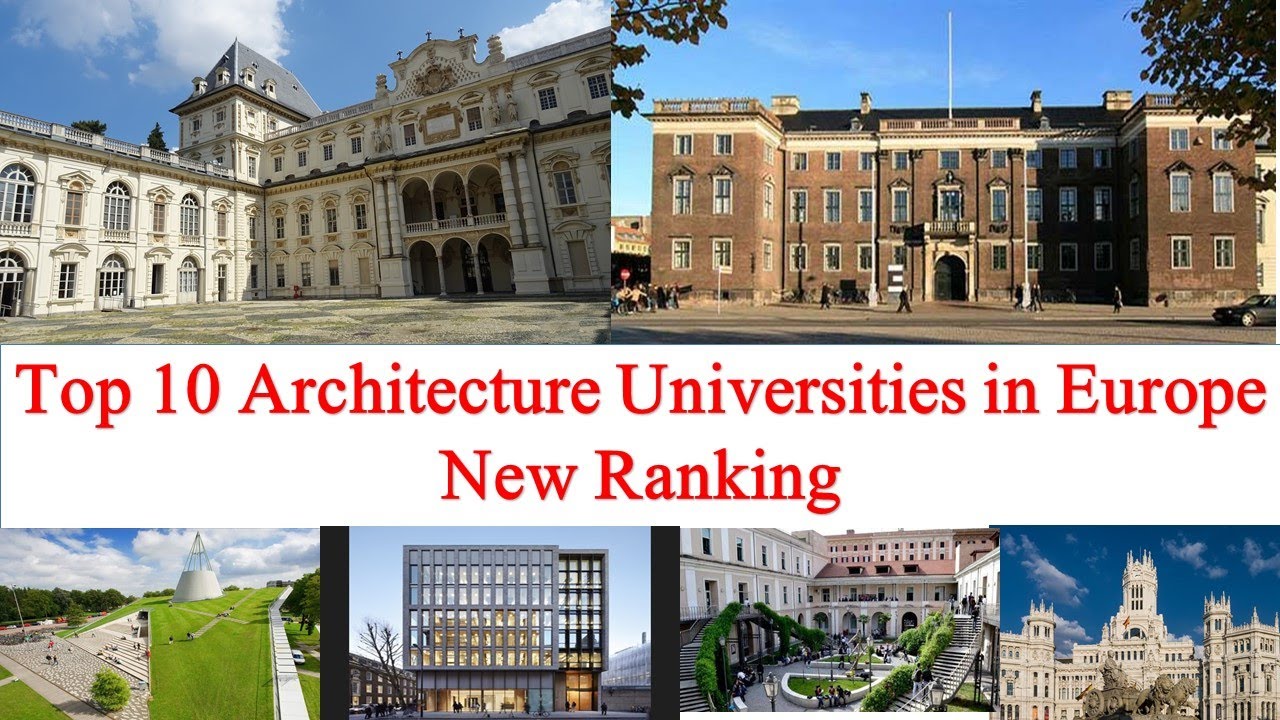 Top 10 Architecture Universities in Europe New Ranking | Entire Education
Admission requirements for architecture schools in Europe vary depending on the school and the program.
However, most schools require applicants to have a high school diploma or equivalent, and to submit a portfolio of their work that demonstrates their skills and creativity. Some schools may also require applicants to take an aptitude test or complete an interview.
International students may also need to demonstrate proficiency in English, as many architecture programs are taught in English.
In some cases, students may need to take an English language proficiency test such as the TOEFL or IELTS.
When it comes to pursuing a career in architecture, choosing the right school is crucial. Europe is home to some of the most prestigious and highly-regarded architecture schools in the world, but with so many options, it can be overwhelming to decide which one is the best fit for you.
Here are some important factors to consider when choosing an architecture school in Europe:
Location

- Europe is a diverse continent with many different countries, cultures, and climates. Think about what type of environment you want to study in and what kind of city or region you would feel most comfortable in.

Curriculum

- Look at the courses and programs offered by each school and compare them to your career goals and interests. Consider the teaching methods, the focus on theory vs. practice, and the opportunities for hands-on experience.

Faculty

- The quality of faculty members can greatly impact your educational experience. Look at the professors' backgrounds and experience in the field, as well as their teaching methods and research interests.

Facilities

- The facilities and resources available to students can greatly impact your ability to learn and develop your skills. Look for schools with well-equipped studios, advanced technology, and ample resources for research and experimentation.

Reputation

- The reputation of an architecture school can greatly impact your career prospects after graduation. Look at the school's rankings, awards, and recognition in the industry to gauge their level of prestige and influence.
By considering these factors and doing thorough research, you can make an informed decision when choosing an architecture school in Europe that fits your needs and goals.
Most architecture schools in Europe require a high school diploma or equivalent, proficiency in the language of instruction, and a portfolio of the applicant's work. Some schools may also require additional entrance exams, interviews, or essays.
There are several top architecture schools in Europe, including Delft University of Technology in the Netherlands, ETH Zurich in Switzerland, and the Architectural Association School of Architecture in the UK.
Other notable institutions include Politecnico di Milano in Italy, TU Berlin in Germany, and the Royal Danish Academy of Fine Arts in Denmark.
The duration of architecture programs in Europe varies depending on the country and the degree level.
In general, a Bachelor's degree takes three to four years to complete, while a Master's degree takes one to two years.
Some countries, such as the UK, offer integrated programs that combine both degrees into a single course of study.
Yes, many architecture schools in Europe offer scholarships and other forms of financial aid for international students.
Some institutions also have specific programs and initiatives aimed at supporting diversity and inclusion, such as the Diversity and Inclusion Scholarship at TU Delft in the Netherlands.
Architecture graduates from European institutions can pursue a variety of career paths, including working in private architectural firms, government agencies, or non-profit organizations.
They may also choose to become licensed architects or continue their education through research or doctoral programs.
Architecture schools in Europe provides students with a unique opportunity to learn from some of the most renowned and innovative architects in the world.
The schools listed above offer a range of programs that cater to students at all levels, and each has its own unique approach to teaching and research.
By carefully considering the admission requirements and program offerings of each school, prospective students can find the right architecture program in Europe to meet their needs and career aspirations.
Share:
Twitter

|
Facebook

|
Linkedin