Small Rooms Appeal To Guests - Cozy, Comfy, And Calm
A hotel in the Big Apple realized that small rooms appeal to guests; so, it tried to incorporate that when it underwent a major makeover.
BD Hotels LLC, the New York-based developer of the Pod 39 Hotel, wanted to ensure that many of the original design aesthetics were preserved from the former Allerton 39th Street House, the 17-story landmark building in which the current hotel operates.
The renovation maintained much of the original Northern Italian Renaissance-style façade with arched windows, terra cotta details, and varied brickwork.
The Pod 39 Hotel's interior includes a contemporary marquee and lobby with vibrant colors, along with classic and natural materials like poured terrazzo, walls of red-glazed brick, and slatted hickory wood.
The same strict design standards applied to designing each of the hotel rooms, as no two rooms at Pod 39 are exactly the same.
COPYRIGHT_CAM: Published on https://www.commercialarchitecturemagazine.com/small-rooms-appeal-to-guests/ by George Evans on 2022-10-10T14:43:37.474Z
The rooms' design elements are more toward trend-setting demographics to appeal to contemporary individuals who like to travel and who often have above-average discretionary income when it comes to making lodging choices.
As small rooms appeal to guests, aside from the design, the size of the room was also taken into careful consideration.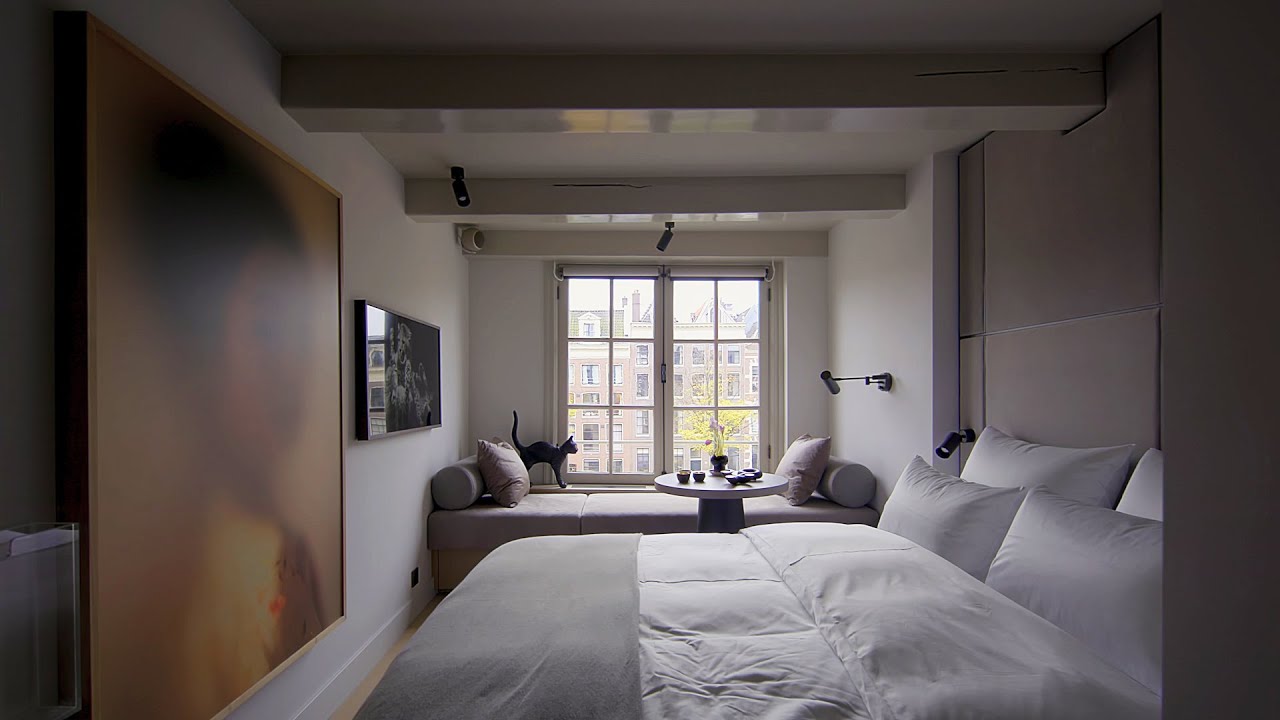 NEVER TOO SMALL Luxurious Amsterdam Micro Condominium - 15.8sqm/170sqft
In large urban centers around the world, hotel chains are recognizing the growing trend in quality hospitality options and converting what used to be flashy, low-quality hotels into more attractive and durable environments featuring upscale, cosmopolitan designs.
They also started to acknowledge how small rooms appeal to guests.
Despite being constructed with high-quality materials, these hotels are primarily intended to appeal to travelers looking to explore the city without spending the majority of their time and money on an unnecessarily well-appointed hotel room.
The Pod 39 Hotel in New York City is one example of this growing trend as small rooms appeal to guests. The hotel forgoes superfluous features of traditional luxury hotels.
This reflects a rapidly growing niche market that will present significant growth opportunities for major hospitality chains and interior-furnishing manufacturers in coming years.
Designing furniture for the unique hotel rooms brought multiple challenges.
The rooms' functionality and aesthetics had to adhere to the same stringent design standards of the lobby and hotel exterior's space limitations, as the majority of the rooms are 100 sq. ft. or less.
As small rooms appeal to guests, choosing the right furniture is important.
Spec-Rite Designs,' St. Louis, experience with custom-designed and custom-fabricated furniture meant they were able to meet the specific design standards, specifications, and space constraints to complete the hotel-room furniture.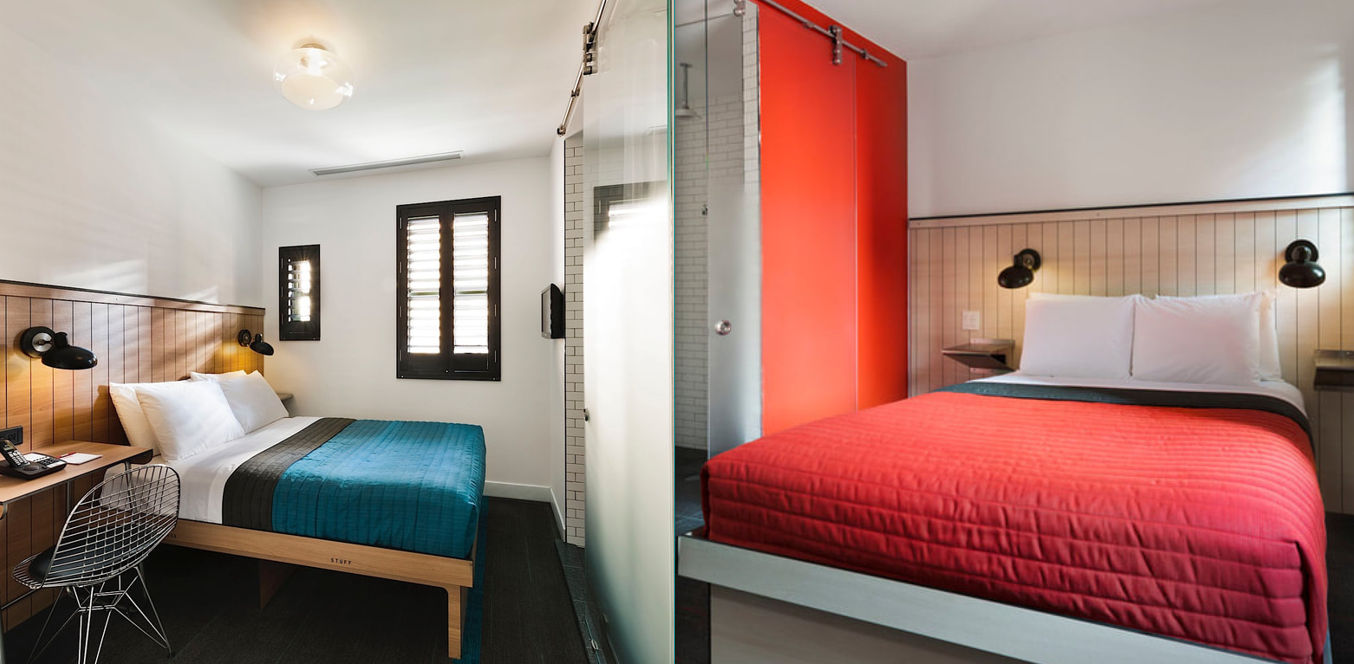 Left: Queen room with white and blue bedsheet; right: Queen ADA room with red bedsheet at Pod 39 Hotel in New York
As the sole source provider and fabricator for all of the hotel's furniture needs, Spec-Rite Designs fabricated custom headboards, wall cladding, windowsills, desks, wardrobes, safe boxes, and bed frames for single-, double-, and queen-sized beds.
Customizing is needed as small rooms appeal to guests. Most furniture may not be right for small spaces.
In addition to the furniture being custom built to most efficiently use the available room space, the furniture also included customized color schemes.
The furniture used three unique wood grains, Silver Maple, European Wild Apple, or Verona Walnut. Each floor of the 17-story hotel offers a floor-specific color scheme.
After the original renovation, the custom furnishings maintained their like-new condition and serviceability for seven years before the hotel was refreshed, at which time the furnishings were reinstalled exactly as when the property first opened.
During the refresh, all guestroom furnishings, including beds, desks, and racks, were removed to facilitate replacement of carpet, wall coverings, and fixtures.
The thought that small rooms appeal to guests remained in the minds of the designers during the replacement process.
Once the room-refresh phase was complete, every piece of original furniture was reinstalled exactly as it was, with zero maintenance or repairs required.
The durability offered by the furnishings was able to save the developers significant furniture-replacement costs during this recent refresh, more than offsetting the higher initial cost of incorporating the highest-possible quality furniture.
The furniture, constructed using 100% solid-phenolic panels, was essential to the developers of the Pod 39 Hotel because it is impact, scratch, and graffiti resistant.
Additionally, the furniture offers long-term appearance retention, decreased maintenance costs, is non-porous and non-microbial, and comes with a 20-yr. warranty that the furniture will not delaminate or warp.
With this increased focus on form-follows-function and more timeless design themes, hotel developers are able to place more emphasis on higher-quality furnishings, and thereby realize the value and return from substantially longer product lifecycles.
This added value is due in part to the sustainability of the design, as well as the product's service life.
This also addresses the growing attention to quality materials among hotel guests, who prefer not to pay $200 or more for a hotel room only to see furnishings that are chipped and delaminated.
Hotel owners are now more interested in saving on furniture replacement costs during refreshes, as the developers of the Pod 39 Hotel were able to accomplish by installing solid-phenolic furnishings.
The renovations at Pod 39 Hotel reflected how small rooms appeal to guests.
Share:
Twitter

|
Facebook

|
Linkedin