ATHENS, Greece — "
During the crisis, we just wanted to survive
," said Paris Skouros, looking towards the changing Athenian skyline, marked by four new high-rises over the past half year. This striking transformation is a clear sign that
Greece is booming after decade
-long economic turmoil. Once on the brink, nearly collapsing the eurozone with unpayable debts, Greece now stands tall among Europe's fastest-growing economies. The burgeoning high-rises are a testament to the country's resilient revival and rapid economic recovery.
Greece's economic rebirth is palpable in the construction boom fuelled by returning tourists, foreign real estate investments, and escalating multinational investment. Greece's upgraded debt ratings are "opening the door for large foreign investors," showcasing the world's renewed confidence in the country's economic stability.
Skouros's firm, Skouros & Sons, is a testament to this transformation. Previously stifled by halted construction, his elevator company is now thriving amidst the resurging demand. "
Now we're profitable, and business is so strong that we can't find enough workers to keep up with demand
," he reports, echoing a nationwide trend of economic revitalization.
"
I will never allow us to relive the trauma of a national bankruptcy,
" asserted the country's re-elected prime minister, Kyriakos Mitsotakis, epitomizing the national sentiment. Despite this, Greece's lingering debt at 166% of the economy and above-average nonperforming loans continue to pose significant economic threats.
Greece's recuperation journey post the 2008 Wall Street crash has been arduous, necessitating three rescue packages from 2010 to 2015.
"Greece had to take these tough steps to survive," noted Yannis Stournaras, a former finance minister and the governor of Greece's central bank.
Despite its exit from the bailout programs in 2018, and an additional 30 billion euros sanctioned for climate investments in 2021, the nation continues to grapple with inflation and the war-induced global financial instability.
Recent upgrades by DBRS Morningstar and Moody's have instilled hope, inviting substantial investments from tech giants like Microsoft and pharmaceutical leaders like Pfizer, stimulating job creation and further economic expansion. Microsoft's 1 billion-euro data center and Pfizer's 650 million-euro research hub underscore the burgeoning investor confidence in Greece's economic landscape.
As Greece is booming after decade-long recovery, the success stories of businesses like Skouros & Sons underscore the nation's economic resilience and potential. The elevator company, which previously survived by maintaining already installed elevators, now boasts orders in 10 buildings. Despite these triumphs, Skouros remains cautious, wary of a potential real estate bubble, hence focusing on financially stable smaller residential projects.
Despite the widespread economic rejuvenation, not all share the prosperity. Dmitris Mitrofinakis, burdened by the austere cuts to his pension, conveys a subdued optimism. "When you look around, people have more work and higher salaries," he observed, "But a lot of other people haven't recovered."
The challenges are acknowledged by the government, with Mitsotakis pledging to diffuse the recovery's gains more extensively. The planned increase of the monthly minimum wage to 950 euros by the end of its four-year term signals the government's commitment to economic equity.
As Greece embarks on this upward trajectory, the narrative is tinged with both optimism and caution. Konstantinos Kanderakis, feeling the impact of a salary increase after a decade, embodies this sentiment: "
Greece is stable again, and what I am happy about is that things will be better for my children.
"
Nevertheless, the unhealed scars from austerity, the looming inflation, and the unequal distribution of economic advancement signify the lengthy path ahead for Greece's complete economic resurrection.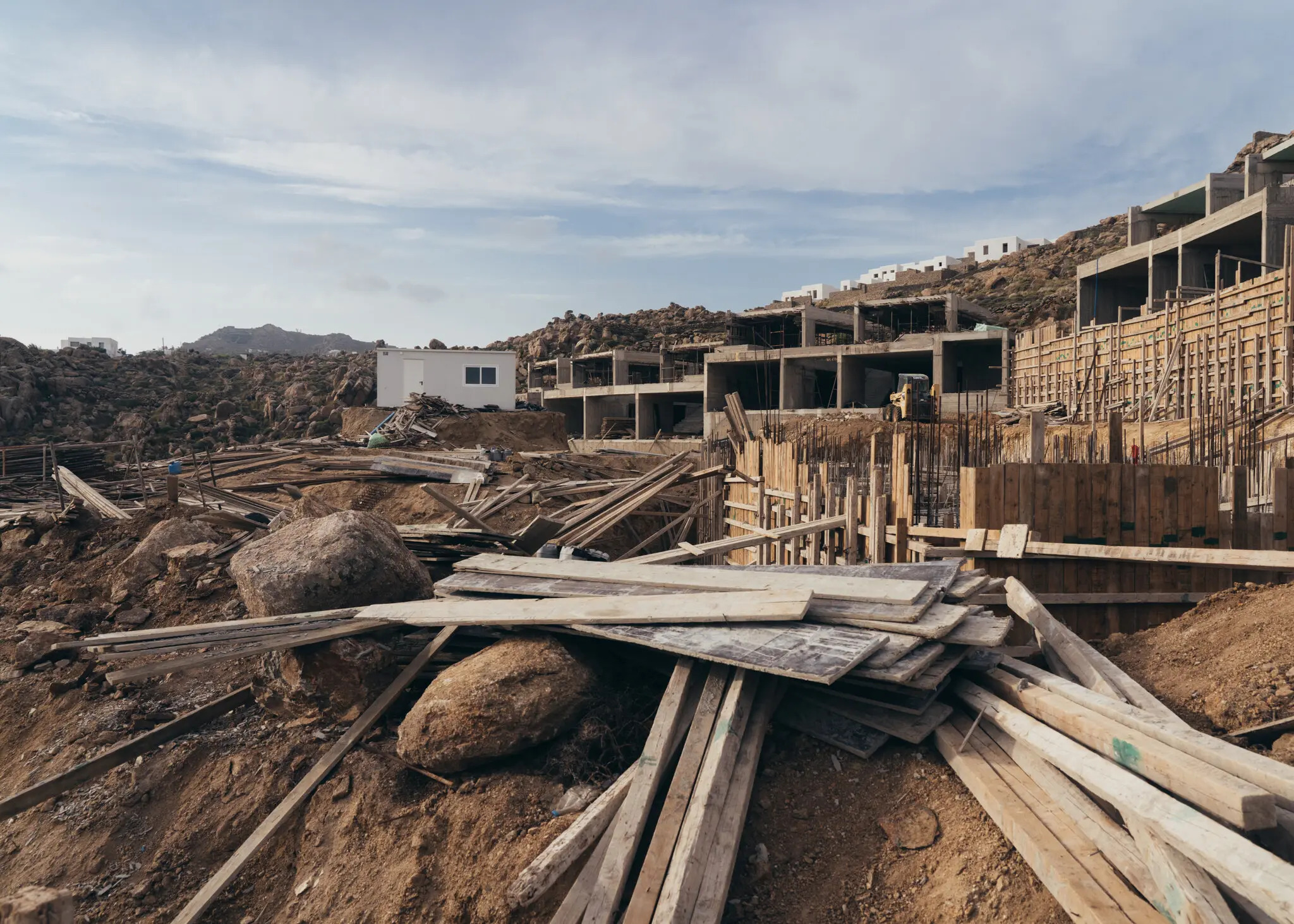 Construction frenzy for hotels, Airbnbs and other lodging on the mainland and Greek islands like Mykonos.
Amidst the bustling construction sites and burgeoning foreign investments, the endeavor for widespread prosperity and economic stability remains paramount, ensuring that the revival is not just visible in the rising skyscrapers but is felt in the lives of all Greeks.
As Greece embarks on this journey of economic recovery, a transformation is also evident in its architectural landscape. The recently revealed design of the
Athens Riviera Tower at Ellinikon
stands as a testament to this change, marking a significant milestone as Greece's first skyscraper and soon-to-be tallest building.
Developed by Lamda Development and intricately designed by the globally acclaimed architectural firm, Foster + Partners, the Athens Riviera Tower is set to be a landmark defining the largest and most ambitious urban regeneration project in Europe – Ellinikon.
Beyond the towering heights and exceptional skyline views, the Riviera Tower's design reflects an intricate blend of luxury and sustainability.
The captivating interiors emphasize Greece's intrinsic beauty, with Foster + Partners' design bringing forth the stunning Greek coastline, water, and mountains into the lived experience.
The use of natural color palettes and elegant, contemporary finishes throughout the apartments enhance this connection to the landscape, ensuring residents feel attuned to their surroundings.
The Riviera Tower is a symbol of progress, not just in
architectural style
and excellence but also in sustainable living. "The design of the building has been meticulously considered with sustainability and experience in mind," stated Angeliki Touziou, reinforcing the project's commitment to environmental consciousness.
The project aims to reduce surface coverage, providing ample green and open spaces, reflecting the wider goals of The Ellinikon project. This approach promotes urban densification while also prioritizing green spaces, benefiting both residents and the environment.
The significant early sales success of the Riviera Tower further highlights its global appeal. With over 90% of the building already reserved by eager domestic and international buyers, it's clear that this unique residential project resonates worldwide.
The Ellinikon Experience Centre provides potential residents and investors a glimpse into the future of urban living, combining stunning designs, breathtaking vistas, and advanced smart home elements. This compelling offering continues to draw global attention, reflecting a strong appetite for innovative and sustainable residential solutions.
Set to be completed in the fourth quarter of 2026, the Riviera Tower is already making strides in sustainable certifications. As the first residential building in the city to be pre-certified with LEED at Gold Level, it stands as a testament to Athens' commitment to environmentally friendly and sustainable living solutions.
This pre-certification adds to the city's growing portfolio of LEED Gold-certified commercial offerings, strengthening Athens' position as a city dedicated to sustainable development.
The early building works for the Riviera Tower signify a collaborative effort across various esteemed firms. A joint venture between the Bouygues Group and Intrakat underscores the project's scale and significance.
Additionally, Tombazis and Associates' role as the local design consultant, alongside a comprehensive design team including Buro Happold, Faithful+Gould, TEKEM, Deta Consulting Engineers, and Doxiadis Plus, ensures a diverse and experienced set of minds contributing to the project's success.
With the combined project management expertise of Mace and Jacobs, the Riviera Tower is set on a solid foundation for timely and efficient completion.
In essence, the Riviera Tower is not just a residential building; it is a symbol of Greece's resilient and innovative stride towards a sustainable and luxurious future, reflecting global standards in design, sustainability, and urban living.
The economic recovery in Greece is attributed to a combination of increased foreign investment, a thriving tourism industry, and significant infrastructural projects. The government's initiatives to create a favorable business environment and the successful management of the COVID-19 crisis have also contributed to Greece's economic upturn.
Tourism, a significant contributor to the Greek economy, is experiencing a revival. Greece's rich historical heritage, breathtaking islands, and warm hospitality continue to attract tourists worldwide, fueling economic growth, creating job opportunities, and positively impacting related industries, further adding to the economic boom in the country.
Key development projects, such as the Riviera Tower and The Ellinikon urban regeneration project, underscore the economic boom in Greece. These projects symbolize Greece's commitment to sustainable and innovative development, attracting international attention and investment, and bolstering the country's real estate and construction sectors.
International investments are significantly impacting Greece's economic recovery. The government's policies, including investment incentives and a transparent regulatory framework, are encouraging foreign investors. This influx of foreign capital is enhancing various sectors, from real estate to renewable energy, reinforcing Greece's economic boom.
The economic boom is positively affecting Greece's real estate market. Demand for both residential and commercial properties is on the rise, with international investors showing particular interest. Projects like the Riviera Tower exemplify this growth, marking a revival in the country's property market and contributing to overall economic progress.
Apart from tourism and real estate, other sectors like technology, renewable energy, and manufacturing are also benefiting from Greece's economic boom. Increased investment, both domestic and international, is leading to expansion and innovation in various industries, creating a diversified and robust economic landscape.
Greek citizens are enjoying enhanced living standards, better employment opportunities, and improved public services due to the economic boom. The government's focus on sustainable and inclusive growth ensures that the benefits of economic progress are equitably shared, promoting overall well-being and prosperity for the population.
Embarking on sustainable and innovative projects like the Riviera Tower, the industry is showcasing Greece's commitment to global ecological and design standards. This architectural surge not only mirrors but also bolsters the nation's economic revival, highlighting Greece as a burgeoning epicenter for architectural excellence and eco-friendly innovation.
In conclusion, the remarkable growth in the architectural sector, with the unveiling of iconic structures and innovative designs, unequivocally signals that Greece is booming after decade-long financial turbulence. The upcoming Athens Riviera Tower and other groundbreaking projects echo the nation's unwavering commitment to architectural excellence and sustainable development.
These towering landmarks, besides reshaping the skyline, are contributing significantly to the economic and social fabric of the country, underscoring Greece's resurgence and steadfast progress on the global stage. The architectural renaissance sweeping through Greece not only celebrates its ancient heritage but also warmly embraces the future, fostering a harmonious blend of the past, present, and the promising days ahead.